Hello! I hope you are having a fabulous weekend!
This post is a bit later than normal due to me taking far too many photos, but now I've waded through them all, here's what I got up to last week...
This is a looong post so feel free to just look at the photos!
~ Liverpool to Amsterdam ~
- 25th April - 2nd May -
The Liver Building // A warm welcome at John Lennon Airport // Saying goodbye to the Norfolk coastline //
Tulips at the Keukenhof // Souvenirs of our trip // A view across the Amstel to the
Basilica of St. Nicholas
So this week was a little different, there was no sewing or knitting (I forgot my current project in London) or even much TV watching, but there was a lot of travel!
On Thursday I went up to my beloved Liverpool, and from the bright sunshine of London into the pouring rain, despite the miserable weather it still was lovely to be back and to enjoy a bit of my mum's cooking, before venturing on further afield!
Liverpool's John Lennon Airport looks like this at 4.40am, just incase you were ever wondering
- Friday morning we caught a very early taxi to John Lennon Airport. 4.15 in the am to be exact! Which took us off John Lennon Airport for our flight to Amsterdam. I will confess to not having slept the night before due to anxiety about the flight, but once I was at the airport and through security I did start to calm down a little (I hate the security check) I have been taught a tapping technique (EFT) by my counsellor which really helped to stop me going in to blind, "GET ME OFF THIS" panic, I will talk about this more in another post as this one will be long enough! Once in the air I calmed down considerably and was even able to entertain myself by taking snaps of the beautiful blue outside the window, we even saw the Liver building surrounded in drizzle as we headed skyward.
The beautiful blue
Much to my relief we landed smoothly at Schiphol Airport just over an hour later, and into more grey weather, boo! Once out of the airport we headed for the very useful free shuttle bus to the nearby
Bastion Hotel
our home for the next few nights, so that we could check in and drop off all our luggage before heading back to the airport to catch a train to
Amsterdam Central Station
and begin the sightseeing!
Bastion Hotel, our home for the duration // Mum & Dad on the train into the city // The beautiful Amsterdam Centraal Station// A few of the thousands of bikes // Lovers Canal Cruise // Some of the beautiful houses
Once in the city, we headed straight for a river cruise, as we figured it was the best way of staying out of the rain and would give us a chance to eat our sandwiches which we had bought from the
Albert Hejin
at the Airport, all whilst letting us take in the beauty of the city. As we were leaving the hotel we spotted a discount voucher for the 1-hour sightseeing tour operated by
Lovers Canal Cruises
so we decided to head for them, luckily they were easy to find as they are located just outside the Centraal Station.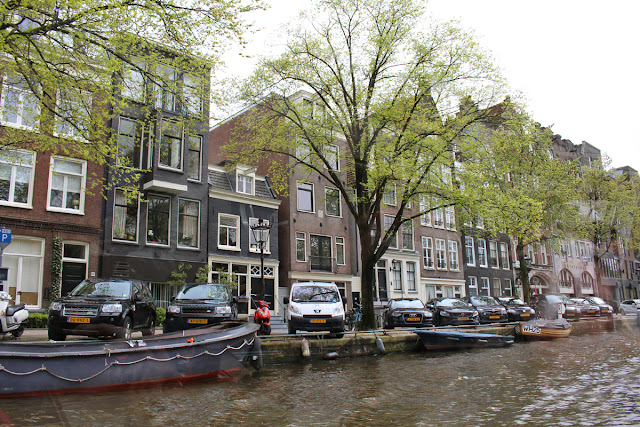 We spent a very pleasant hour pootling along the canals taking in the sights, Amsterdam truly is a beautiful city and I just loved watching the quirky wobbly town houses all staked together like books on a shelf as we floated by and the super low bridges covered in bicycles are exactly what you imagine when you think of Amsterdam! Unfortunately, this is also the moment, where my exhaustion finally hit, after my lunch was demolished, I had to fight to keep my eyes open and so struggled to listen to the audio history which was being piped through our headsets as we passed many wonderful bridges and beautiful buildings.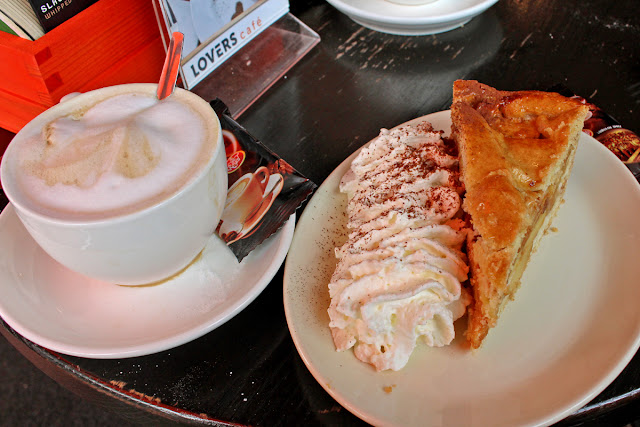 A much needed Cappuccino and Apple Pie with lots of whipped cream!

Once off the boat, we ventured into the

Van Gogh Cafe

which thankfully was right by our departure point and to a welcome cup of coffee and a slice of apple pie, which was just the tonic I needed to wake me up, the cake was very delicious. After leaving the cafe we ventured around the city for a few hours longer but we all soon realised we all needed a rest and so headed back to our hotel and a rest before dinner in the McDonald's right outside (I am loath to admit it, but by this point as none of us had any energy to venture much further and the hotel food was a little expensive) where I learnt they do veggie burgers, surprisingly they are not bad either, then it was back to our rooms and a much-needed sleep for us all!




Travel Tip: We bought a 3 day travel pass from a newsagent inside the airport-station which cost

€

24 euros each and meant we could hop on any train, tram, bus or ferry for the duration of our trip, as long as we remembered to tap in and out, and also contained a little fold out map which certainly proved very useful.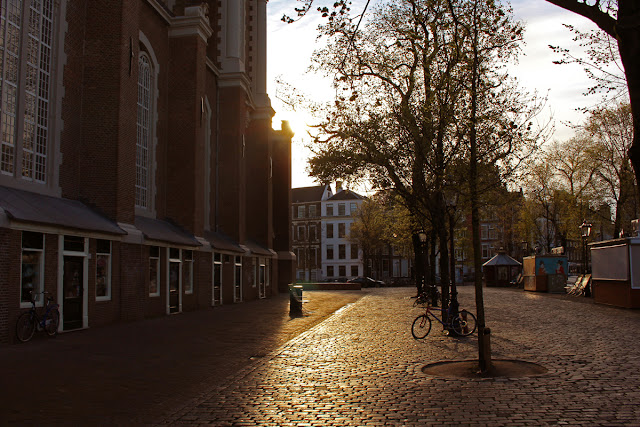 - Saturday we were up bright and early again for our first full day of sightseeing!
We were up and on the shuttle bus to the airport by 6am for one reason, to visit the
Anne Frank House
. We had tried months in advance to book tickets to save on the queueing but they sold out instantly, so instead we decided to try getting there before it opened which meant after a train and a tram ride at 7.50am we were already waiting patiently in the queue ready for it open at 9. It was worth it as we were only about 20th in the queue, and only had about an hours wait rather than an estimated three hour one!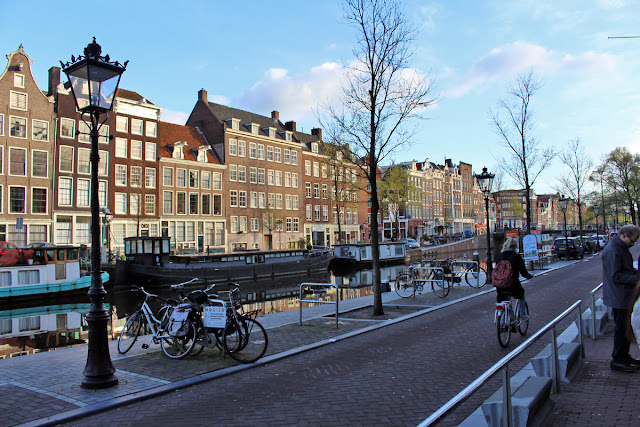 A view across Prinsengracht to the canal and houses beyond
We also learnt that we had luckily picked the very last day that this early approach would work, as from the 1st of May they were only accepting pre-booked tickets until 3.30 pm each day which considering how quick they sell out I guess will mean for most tourists a long wait in the queue is an inevitability! While we waited we admired the beautiful and very quiet surroundings, listened to the
Westerkerk
behind us melodically chiming the quarter hours over the chatter of the other tourists in the queue and watched the bikes swoosh by us, there are certainly worse ways to spend an hour!
Dad and me on the train again // Westerkerk's tower (Westertoren) which Anne wrote about lots in her diary
// Statue of Anne outside the museum // The now massive queue for the museum from the canteen // A book of the museum and a contact sheet postcard of Anne
At 9am sharp, the doors opened and we were allowed in to the warmth of the museum. It's difficult to know what to say about it, I think moving is the only word that can sum it up. The Frank family ran a company which supplied Pectin for Jam making and so the annexe they hid out in was located tucked away behind the families warehouse. The rooms have been left sparsely furnished (as per Anne's Father's request) with only a few artefacts and videos to look at in each. You get to climb the steep stairs behind the moveable bookcase, up to the hidden apartment and despite being surrounded by tourists it all is a little overwhelming and very sad. Seeing the movie stars pictures Anne had stuck on her bedroom wall and hearing the testimonials of childhood her friends was heartbreaking. I read her diary as a child and was captivated by it, as I child I didn't know until the end that she didn't survive so I remember feeling her hope with her, I really want to read it again now that I can visualise things more accurately and have actually heard the Westertoren chimes which irritated her mother so!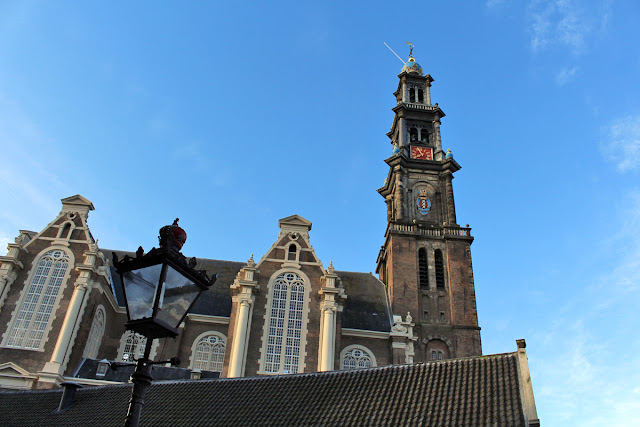 View of the Westerkerk (West Church) and tower from outside Anne Frank museum
After leaving the museum through the gift shop, followed by a quick detour via a souvenir shop, to buy some much-needed fridge magnets (photo at top of post), we popped into the Westerkerk to have a little look around, light a candle and stop for a moment to listen to the choir who were practicing for an upcoming event, it was beautiful! Next, we walked along the bicycle riddled streets to
Dam Square,
were we ate our sandwiches alongside the bikes, pigeons and tourists and marvelled at the bravery of the people who were queueing to join the scary rides on the fair ground which had been set up there for the weekend!
Family on a bridge // Dam Square with its war

memorial

and a

musements

// I amsterdam sign outside museums//




Vondelpark // Cheating on Beau with another grumpy cat //Mum & my wooden tulips
Not sure where to go next we consulted the map and decided to head towards the museums and the big expanse of green, which was
Vondelpark
. We caught a tram from outside the Centraal Station which whizzed us there in no time and strolled around the hustle and bustle of the museum area past the
Rijksmuseum
and the 'I amsterdam' letters which were coved in tourists, before heading away to the south and to the much more tranquil park.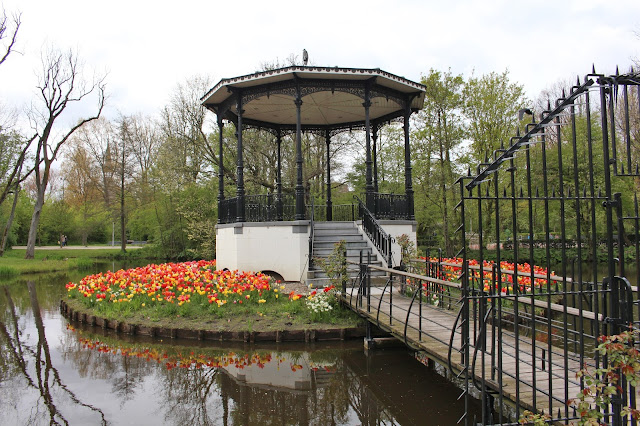 Tulip bulbs aplenty around the pavilion, plus a heron on top which I only spotted on editing these photos!
Vondelpark is named after a famous playwright and poet
Joost van den Vondel
and is the biggest in the city.
We had our daily slice of apple cake and cup of coffee in the magnificent 1930s
Blauwe Theehuis
, (I neglected to get a photo but you can see it in its full glory
here
)
before strolling in the park for a while longer. Though the weather had now become a bit grey and overcast seeing the tulips planted around the pavillion really brightened up things. After leaving the park we wandered out to the nearest tram stop to take us back to the station, passing a beautiful little kitty who was asleep on the steps of one of the book like town houses, he woke up to say hello and reluctantly let me take a photo, I named him Amstel, I hope he wouldn't mind!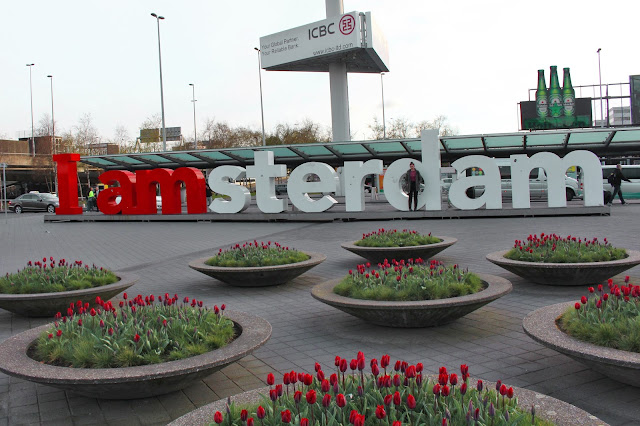 Me and the 'I amsterdam' sign outside Schiphol Airport/Rail Station
Once back at the station we wandered a little longer up Damrak, where me and mum picked up some wooden tulips from one of the gift shops, we found the cheapest was
€
12.50 for 10 which we shared between us before heading back to Schiphol, to by our tickets to the Keukenhof for Sunday. We found after a bit of wandering that the same newsagent we had bought our travel passes from sold these tickets too! After that, it was a quick dinner in the airports buffet style restaurant La Place, before shuttle bussing it back to the hotel for a cup of tea and a good nights sleep!
Travel Tip:
The now iconic, I amsterdam sign outside the Rijksmuseum is always packed with tourists, however the one outside of Schiphol Airport is not, so if you want to get the perfect snap of just you then this is the place to do it, the backdrop may not be quite as fab, but there was the bonus of lots of tulips when we went!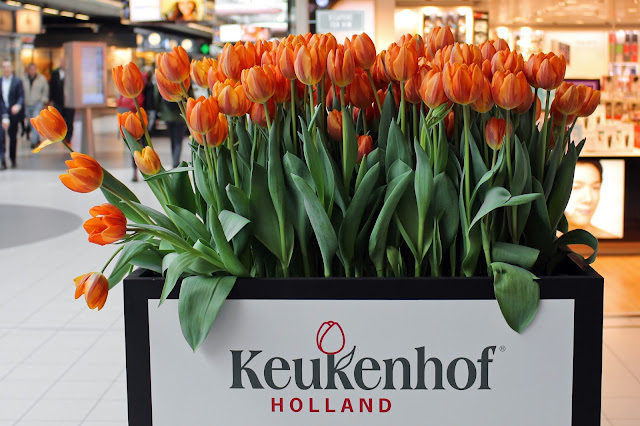 Beautiful sign pointing to where the buses left in Schiphol Station
- On Sunday went to the Keukenhof for a tiptoe through the tulips!
It was up a little later this time but not much, for our trip to the Keukenhof. The weather overnight had changed from cloudy with the chance of drizzle to gloriously sunny, if still bitterly cold! It was back to the airport on the shuttle bus to catch, another bus, this time, one that was taking us out to Lisse, where the bulb fields and the Keukenhof gardens are located. The queues for the buses at the airport were quite long but the buses were very regular, though you might have to stand up for the 30ish minute journey as they do pack you in.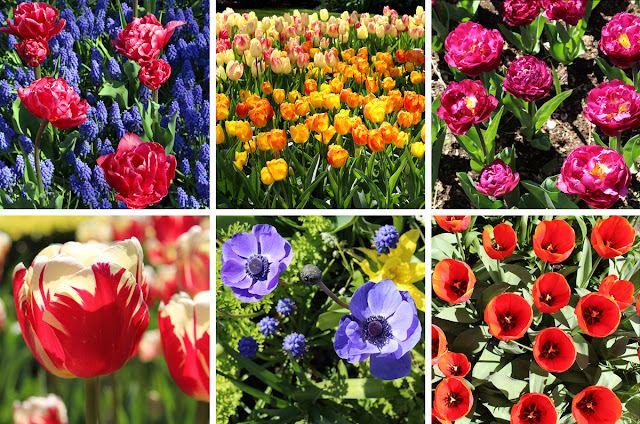 Blooms of every colour and shape!
Once inside the gardens we were charmed by the beautiful music trickling from the fabulous De Adrien organ, Tulips from Amsterdam, naturally was one of its many melodies. The gardens themselves were stunning, so colourful and beautifully arranged, so perfect in fact, now this may sound a little odd, but it felt like stepping into a Disney film, the accordion music the manicured borders the sweet scent of the blooming bulbs, it was all wonderful but a little surreal, I'd have not at all been surprised if we'd seen fairies and pixies tending to the plants as we wandered through!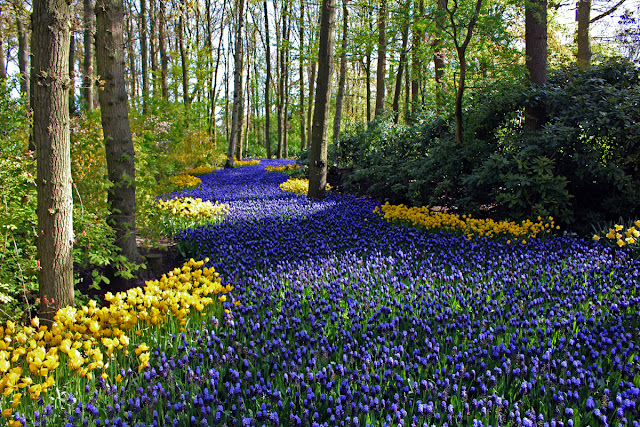 Stunning display of a river of Muscari bulbs edged with blousy Daffodils
I also think we may have found 'selfie centraal' as I have never seen so many people having their photo taken or using selfie sticks amongst the blooms it was a little much at times considering the place was packed and most of the grass was not for walking on, but after a few hours you got used to having to duck and dodge being in peoples photos!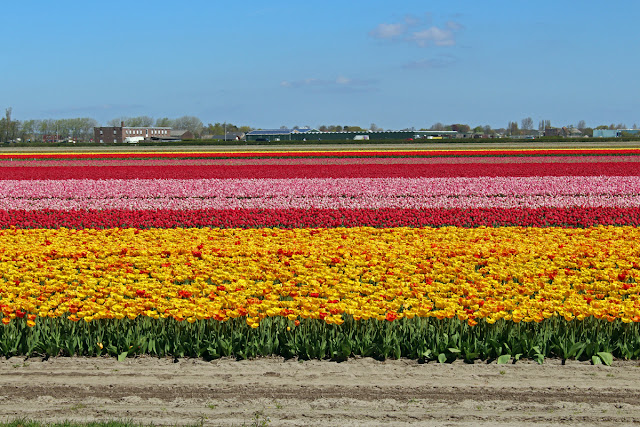 Surrounding the Keukenhof are the beautiful bulb fields
We also got a glimpse, from one of the paths, of the bulb fields that surround the area, there was a river cruise we could have taken to see them in all there striped glory, but due to it being a lovely sunny Sunday the queue for tickets was epic and so we decided against it, though I am sure it would have been a glorious way to spend an hour!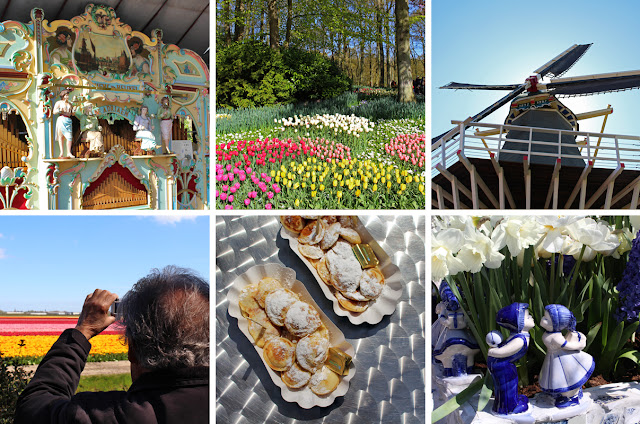 The musical Organ which piped our entrance // Tulips under the trees, sadly no pixies //Windmill //
Dad taking in the beauty of the bulb fields // Yummy Poffertjes, just don't ask me to pronounce that! // The Delf Garden, with the iconic kissing Dutch boy and girl figurines
Just before we left we found the Poffertjeshuis, which was recommended by
Mim
, weirdly it's not marked on the official map so we nearly missed it, but it's located right by the playground and petting zoo if you ever visit and fancy trying them for yourselves. I treated us to all to some of these traditionally Dutch squishy little pancakes (
recipe here
), which were really delicious, they unfortunately, didn't have any toppings but they were really tasty nevertheless and made a welcome sweet treat to end our visit, one I would highly recommend,
thanks Mim!!
Amsterdam Centraal Station, showing off its gilding in the evening sunlight
As we were to take another early flight back to Liverpool the next day we decided to head back in to the city to say goodbye to this beautiful place. We made a beeline back to the
Van Gogh Cafe
for a Cappuccino and a chat about our trip before a pizza dinner in a little Italian restaurant a short walk away on Damrak. After our meal we went for one last wander down the main stretch back to Dam square and then meandered back to the station via a closed
Quilt Shop
on
Sint Nicolaasstraat for mum to ogle at (she is planning a return trip for this alone!) and some very pretty backstreet's, it was lovely to see the city with a bit of sunlight on it and made the perfect end to our holiday!
Back in the Van Gough Cafe for a rest // Vegetarian Pizza = Yum! // The wibbly wobbly houses across the Amstel //
The Royal Palace in Dam Square // The Quilt shop, where we educated my dad and James to what a fat quarter was, they thought it hilarious! // One of the side streets taking us back to the station
I'll be honest before our trip I was concerned about Amsterdam's 'liberated' reputation, my parents are not as open minded as me and my brother and are easily offended by such things, but I needn't have worried, if you go looking for it then yes it's there, but otherwise it was barely detectable, the Red Light district is clearly marked on the maps and so can be easily avoided if you choose to and I have honestly smelt more dodgy cigarettes being smoked on any trip around Walthamstow, than I did in our time in Amsterdam! I was also concerned there might not be much in the way of vegetarian options as Europe does like it's meaty dishes, but again I needn't have been worried as everywhere we went had veggie options, even the McDonalds, so I was never left hungry!
A stroll along Damrak to Dam Square
Amsterdam was wonderful I can't recommend it enough! It has such a relaxed atmosphere and everyone we met was very friendly and helpful. Most people spoke English, so if you are anxious about language barriers then this really is the perfect place to visit. I honestly wish we could have stayed a little longer, to explore the city a bit more, visit the museums with their masterpieces, and rent a bicycle to whiz around on, but I am sure I will make another trip one day if only to visit the quilt shop with my mum!
Wendy x