Today I am sharing with you a review of Lisa Comforts
Sew Over It Vintage,
it's
a book I bought for myself a little while ago now and I have used to great effect to make my recently blogged about
1950s Box Pleat Skirt
- the first ever truly self-drafted pattern I have made! So I thought it would be a good time to give you all a look at the other wonderful patterns contained in this book!
Stylish Projects for the Modern Wardrobe & Home
By Lisa Comfort
Published by Ebury Press June 2015
RRP £15.00
'Sew Over It Vintage is a brand new collection of fabulous projects from sewing expert Lisa Comfort. Inspired by Lisa's love of vintage style and fashion, the stylish projects each have a vintage twist but still retain the modern style, allowing these pieces to work with and complement the rest of your wardrobe and your home. Featuring 25 projects, ranging from jewellery, hats, tops, dresses and bags, to cushions, lampshades, placemats, lanterns and a luxury chair pouffe, there are ideas for those who want to quickly create an accessory on a lazy afternoon as well as suggestions for those that want to invest their time in a large and impressive project. Every project has a clearly labelled skill level as well as step-by-step photography, ensuring the directions couldn't be any easier to follow. And with instructions on how to draft your very own bodice block, all the clothing can be made to fit your body shape perfectly. There is no better way to inject some classic vintage style into your everyday life.' (Ebury Press)
The book opens with a quick and a rather lovely introduction to our author and sewing teacher Lisa Comfort, where she talks about why she wrote this book and why she loves vintage.
It is followed by some quick chapters on 'In your sewing box', a Glossary of stitches, How to Measure Yourself, Pattern Cutting Tools, an Introduction to Pattern Cutting, and Cutting Guidelines.
~ Dabble With A Bit Of Vintage ~
This chapter focuses on adding vintage embellishments to existing garment and is designed to ease you in gently to the wonderful world of vintage sewing with three Easy and one Intermediate project.
Adding Fur Cuffs & Collar To a Coat (Easy) // Adding a Peter Pan Collar to a Top (Intermediate)
Vintage Brooch Embellishment (Easy) // Glam Up A Breton Shirt (Easy)
~ Make A Vintage Inspired Wardrobe ~
This is where we get to the good stuff, the vintage patterns! This is where all the pattern drafting truly begins, which also means that these patterns are all marked Intermediate to Advanced on the skill level.
1920s Anita Tie Top (Intermediate) // 1950s Sally Sailor Blouse (Advanced) // 1930s Cowl-neck Dress (Advanced) 1920s Kimono (Intermediate) // 1940s French Knickers (Advanced) // 1950s Button-up Skirt (Intermediate)
1960s Pleat Dress (Intermediate) // 1950s Cardie Dress (Intermediate)
1950s Capelet (Advanced) // 1950's Box-pleat Skirt (Intermediate)
~ Something To Go With It ~
This chapter is dedicated to making accessories that would go really well with the new self-draft vintage wardrobe you've just created! Alternatively, as most of these patterns are marked Intermediate or Easy, so if new to sewing this chapter might be a good place to start!
1940s Fascinator (Easy) // 1970s Clutch (Intermediate)
1960's Fur Hat (Intermediate) // Vintage Lace Necklace (Easy)
Vintage Curtain Handbag (Intermediate) // Veil with Vintage Buttons or Brooches (Easy) // Vintage Cotton Men's Tie (Easy)
The last chapter in the book contains, patterns to give your home a little vintage flare!
Vintage Fabric Lampshade // Lace Lanterns (Easy) // Doily Placemats (Easy) // Applique Quilt (Intermediate) Piped, Zip-fastening & Envelope-back Cushions (Advanced, Intermediate & Easy) // Patchwork Pouffe (Advanced)
The last few pages of the book are where you'll find the re-sizable templates for the smaller projects and a glossary of suppliers and stockist.
~ The Good Points ~
~ It's beautiful! Every project is photographed to perfection, utterly enticing you to make it up!
~ The book is designed to teach you not to be afraid of self-draft patterns. Apart from a few templates, everything else relies on you taking your own measurements and then working them into drafting your chosen pattern.
~ Lots of projects! There are 29 patterns in all which is a really good amount, especially considering there are enough patterns to enable you to make a complete wardrobe of garments if you so desire!
~ It's a nice sturdy hardcover book, with thankfully no dust jacket!
~ All projects are ranked from Easy, Intermediate, to Advanced, so there is something there for every skill level.
~ Lisa has made a lovely little video on her
Sew Over It
YouTube channel to promote the book and so you can see some of the projects in real life, as it were! Her channel is also amazing for sewing tips or if you are just super nosey like me and want to see what she has been making!
~
If you fancy trying before you buy you can download the
Antia 1920s Tie Top
and
The 1920s Kimono
tutorials for free from
Make It Today,
just create a login and they are yours!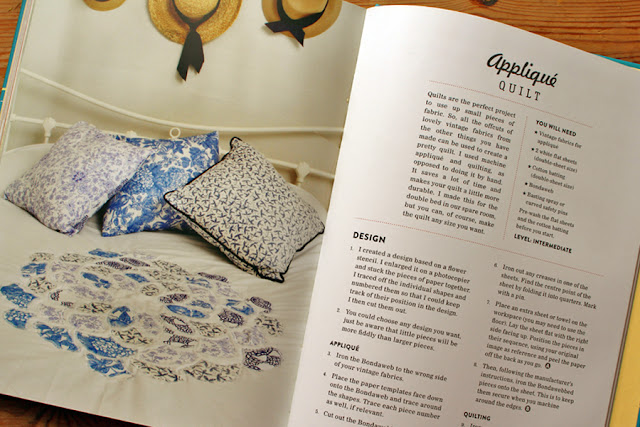 ~ The Not So Good Points ~
~ There could be a few more garment photos showing the construction a little better. When making my version of the box pleat skirt, I did struggle at times to visualise certain parts, some good all around photos would have really helped.
~ There are a few, to my mind, filler projects: Broderie Anglaise wrapped glasses and attaching a skirt to a cardigan (think of the nightmare of laundering such a piece) are nice but not really what I am looking for in a sewing book.
~ There are no pattern pieces given for the Applique Quilt which is a shame as it's one of my favourites out of the homeware projects.
~ I noticed on the Amazon reviews of this book, that one reviewer mentioned the patterns didn't work on her more voluptuous frame. Lisa is a UK size 8, so it may be possible that some of the garments don't look as flattering when graded up into much larger sizes.
~ My Verdict ~
Lisa Comfort's
Sew Over It Vintage
is a lovely introduction to the wonderful world of vintage sewing. The range of projects offered in the book are diverse enough for everyone to find something that matches, or even pushes their current skill level, and also means that if you wanted you could quite easily create a whole wardrobe of simple, but beautiful self-drafted clothes from this book alone. There are a few filler projects but they in no way detract from the quality of the other projects. If I had to choose a couple of favourite patterns, it would have to be the 1950s Box Pleat Skirt and the gorgeously drapey Anita Tie Top, though it is a difficult choice as there are soo many pretty patterns to choose from.
The question of larger scale grading is one that should be addressed. I have not found this to be a problem personally. I am a UK size 16, miles away from the size 8 of lovely Lisa Comfort, however, I was able to make up the box pleat skirt with no real fitting problems at all. It may be a little less flattering on my much more hippy frame, but I still think it was worth making and truly love wearing it.
Sew Over It Vintage
is a lovely little book to have in your collection. I would definitely recommend getting a copy, as it offers a great range of patterns and gives you the chance to expand your sewing confidence by venturing into pattern-drafting, which in turn opens up a whole world of possibilities for creating your own self-drafted garments - what more could you want from a sewing book!
I hope that you enjoyed this review and if you have been pondering buying this book I have helped you to make a more informed decision!
Have you got a copy of this book, what did you think?
Wendy x