I made the most of the super sunny bank holiday at the end of may to stay at home and get on with some of the things I have been putting off or to one side lately, in favor of allotmenteering.
My weekend was spent: Sunny Sewing // Spinning Records // Wartime Farm Knitting // Grumpy Gargoyle watching (I mean look at that face!) // Free Plant receiving - I have the best friends // Dancing shamelessly around my kitchen to Herb Alpert & The Walker Brothers - just like being at a 60's cocktail party!
I had been expecting the May bank holiday to be another rainy affair, there are a few things you can rely on in England and rainy bank holidays are usually one. This meant the only plans I'd made were to stay inside and keep as warm as possible. So the glorious sunshine took me by surprise, we usually like to go off exploring when the weather's right, but as much I love visiting interesting and beautiful places, I must confess I really enjoyed having a whole weekend dedicated to just staying at home, making the most of the space we now have to do all of the above, which means I've actually done some sewing to blog about, hurrah!
Mathilde - A
Button Back Blouse
(Stash Buster)
Fabric – 2 yards/1.9m x 60"/150cm OR 2 ½ yards/2.2m x 45"/115cm
Matching thread
Lightweight fusible interfacing
7 x 5/8" / 15mm buttons
Recently I was given some floral printed blue cotton mix fabric by one of my Mums friends. I knew that its lovely drapeyness would mean it would make a cracking blouse, though I also knew the 40s patterns I am usually drawn to would not really have suited its flamboyant floral print. So I left the fabric to one side and put it on the back burner, it wasn't until I saw Tilly's cute button back blouse pattern which I knew it would be perfect for this fabric!
It soon dawned on me that 'Mathilde' required quite a bit of fabric for those lovely billowy sleeves, sadly on closer inspection I realised I had only 1m, which no matter how hard I tried to fit the pieces into it, (and I really did try) there was never going to be enough. Drat! After a bit head scratching I remembered I had some remnants of heavy satin fabric from my
50s Butterick sunburst tuck dress
which was a close colour match and though a completely different weight and makeup, I hoped would work for the yoke and sleeve cuffs!
As you will see from the pictures below, I ended up using much more of the satin than I had anticipated. It worked out that the whole back section, as well as the front yoke, would have to be blue satin as once the sleeves were cut, there was nowhere near enough floral fabric left, so as a compromise and to get as much as I could of the floral into the back I created a back yoke.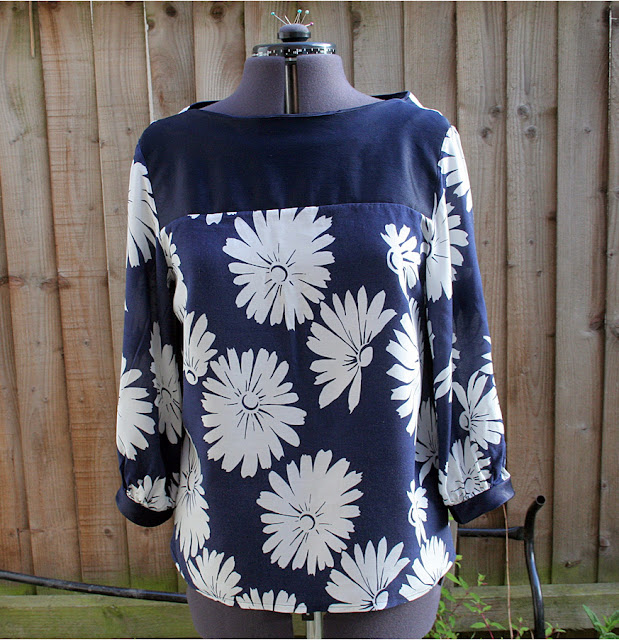 Front View
I marked the break at the same level as the front yoke and added a seam allowance to both sections. I actually surprised myself, by it working really well and it all matched up perfectly, which is rather unheard of where I'm concerned!
Back View
Once I had all my pieces figured out, it went together like a dream, Tilly's detailed instructions certainly ensured that. I have to admit it's the first time I have ironed everything, constantly through the whole process, and I really think it paid off. It's also one of the quickest things I have ever made, I took just over an afternoon to finish from cutting to sewing the buttons on, which is honestly a record!
I don't know if it was my choice of musical accompaniment, the bold floral print or the pattern (or all three) that has given this project have a very 60's feel, which I love and as long as the weather stays warm I know I will be wearing it a lot over the next few months!
Wendy x