Hello, hello I hope you're having a wonderful week and looking forward to the weekend, I know I am! So here is what I got up to last week
- 12th - 17th April -
Onions are sprouting // Beau snoozing // A massive June Bug Cocktail //
Bonnie & Clyde // Sew Over It Anderson Blouse // A fridge magnet from Petra
- Got a touch of the sniffles.
I ain't gonna lie I didn't get much done this week I caught a cold on Thursday and so most of my weekend was spent lounging on the sofa, taking cat naps and watching lots of TV, rather than catching up with all my projects, which was a little irritating as I have lots to do, but sometimes you just have to accept it's better to just relax. Beau kept me company by lying along the edge of the sofa under my feet so that I didn't get lonely, he is sweet like that!
- I went out for drinks on Friday.
This may well have contributed to me feeling rotten all weekend, as I met up with my pal Phillip for drinks and dinner at the Westfield shopping centre in Stratford. As you will see from the above picture we had massive cocktails in the TGI Friday's bar, that one's called a June bug, I can't remember what was in it but it was very delicious and far too easy to drink so we may have had more than we should! Oops!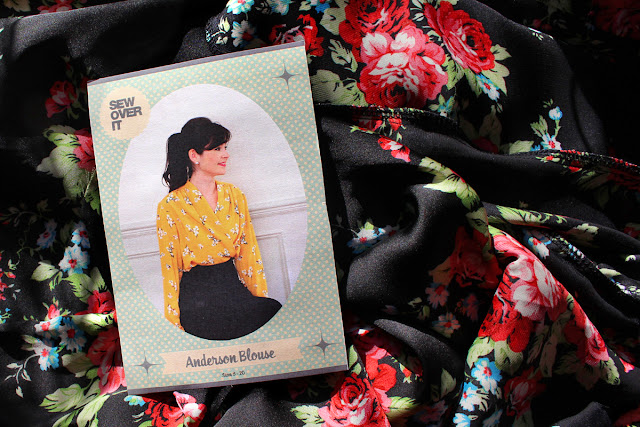 - Began the Sew Over It Anderson Blouse!
After spending a few hours sticking all the pattern pieces together, I managed to fit all of the fabulous
Anderson Blouse
into the remaining fabric from my dressing gown. I have started sewing the bodice together but it's certainly not been easy, the best way I have found so far is to use a walking foot and have the machine on the slowest setting. I will be taking
Cate's
fabulous advice on my last post and be basting my pieces together from now on as anything that will make it easier to stitch accurately is worth trying. I have also been serging/overlocking the raw edges which has been difficult as the fabric tends to stretch and warp under the overlocker. I can live with the results on the blouse, but I am thinking of biting the bullet and doing French seams for the dressing gown, it will take longer but should give a better result!
- My brother sent me a gift!
As much as his
Wartime Farm Pullover
travelling the world has become a tradition, so has him buying me a marvellous fridge magnet from the country he has visited, this trip was no exception and so I have my very own Petra fridge magnet and a Polaroid of him in his Pullover to add to my rapidly growing collection on the side of my fridge!
I watched a lot of TV & did a bit of knitting-
Feeling grotty gave me the perfect excuse to do a bit of knitting front of the telly, which means I managed to watch a fair few films,
Small Soldiers
(perfect family Sunday sofa viewing),
Divergent
, (despite being a fair bit like Hunger Games it was rather good, in a dystopian sci-fi kind of a way) and
Django Unchained
, (really good, very shocking, funny and had
mostly
warranted violence, which for a Tarantino film is unusual) also I finally got around to watching the History Channel's
Bonnie and Clyde
mini-series which I've had on DVD for ages, it was actually
Cate's Vintage On The Web
post which reminded me that I hadn't watched it yet, so it was time to remedy that!
I did enjoy it, not as much as the late 60s version, but it was really good, it certainly takes a slightly different spin on the story with Bonnie being shown as more of the mastermind behind their crime spree, but it works. The clothes? Well, they were epic!! It is actually worth watching this show for the fashions alone as Bonnie's wardrobe is utterly fabulous. After watching the extras on the DVD, yes I am that kinda girl, I discovered an interview with the costume designer, who mentioned that she found a whole wealth of fabulous original 1930s woollen dresses which they used for all of Bonnie's wardrobe (apart from the iconic jumper in the top still, that was made by the costume department), she figured they would be perfect for Bonnie as the woollen fabric would not crease and so would always look good, as being a criminal on a crime spree there isn't much time for ironing!
Wendy x