Hello you lovely lot, I hope you have been having a wonderful July so far!
Last week I decided to take myself off to the Isle of Wight for a few days, to spend some quality time with my parents and for a little bit of Island tranquillity in the summer...err...sunshine? Well, at least I was hoping so!
Mum and me at I.O.W Railway // Freshwater Bay // New Knitting
Appledurcombe House // Off to see a show // Clematis in my folks garden
I decided to head down to Portsmouth bright and early on Friday morning, as I'd been lucky enough to snag a super cheap train ticket from Waterloo to Portsmouth with
Megabus
(a site really worth checking out if you can be a little flexible with your travel times and are able to book in advance). So after a couple of early morning buses to get me to Waterloo, a train and then a ferry I arrived at Ryde pier head more than ready for a few days holiday.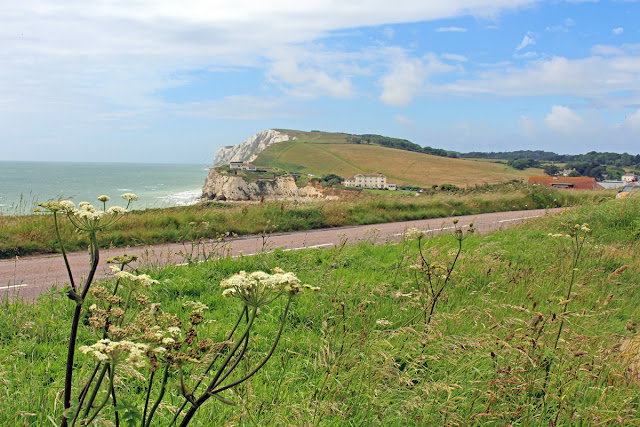 View Across the Bay
The first stop on my trip was to Freshwater for a bit of charity shopping at the
Wessex Cancer Trust Shop
and to grab some fish and chips for lunch. I managed to get a relatively new copy of Winifred Holtby's South Riding (I blogged about the BBC adaptation
here
), for a whole 75p and some little black buttons for £1, which should hopefully work well with the next sewing project I have planned, so left Freshwater rather happy with my little haul. Dad drove us over to Freshwater bay, to one of my favourite viewing points on the island, where we sat to eat our lunch and the sun started to shine for what felt like the first time this year. It was bliss!
Dad as a station guard // Wartime Cheese Sarnies // Mum looking very chic in my beret, it really suited her!//
Stop Look & Listen // taking a ride on a train // US Army camp
It was the Round the Island Yacht race on Saturday but we decided to forgo an early morning start for a good vantage point to watch the boats, in favour of popping along to the Isle of Wight Steam Railway for the first day of their annual 1940s weekend.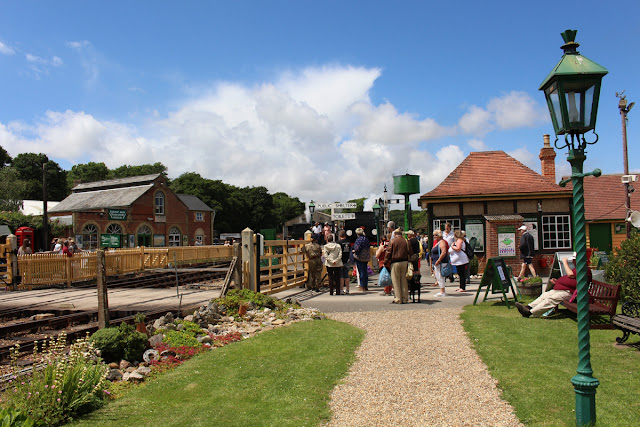 If I am honest this was actually the main reason for my trip, it's something I have managed to attend every year for the last few years and now that I am a member of the railway's club it means that I get three free passes into the station a year, one of which I always save for this weekend. I've actually been visiting this railway since I was a tot and so it has a special place in my heart; as a child I used to pretend as we rattled along, with the wonderful smell of smoke and the smuts blowing in my face as I stuck my head out of the window, that I was back in the 40s or even that I was one of the Railway Children, so as you might imagine, the child in me is very happy that I get to pretend for real as a grown up, even if it is just for one day!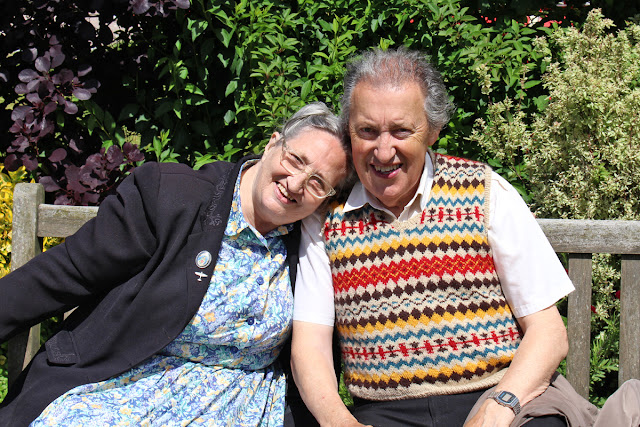 This year I wore my vintage style tea dress, which I bought many years ago from ASOS and thankfully even with all the stress eating I have been doing lately it still fit! The beret was a last minute change; it was a bit windy I didn't want to spend the day fighting with my hat so swapped it for the beret. Annoyingly I forgot to pack my newly finished
Sunday Pictorial beret
which was actually knitted to go with my fab late forties coat, which would have topped off all the blue and purple in my outfit perfectly! Mum's dress is a lovely floral one I found in one of my favourite (and much used) Etsy stores,
Secondhand Rose Worcester
, it's a lovely 80s cotton dress which really does look perfectly 40s too and as she loves it,that means it's a win all round! My dad wore the
Stitchcraft Fair Isle Pullover
I knitted for him many Christmases ago, he even had two ladies compliment him on it, which I think he was rather chuffed about!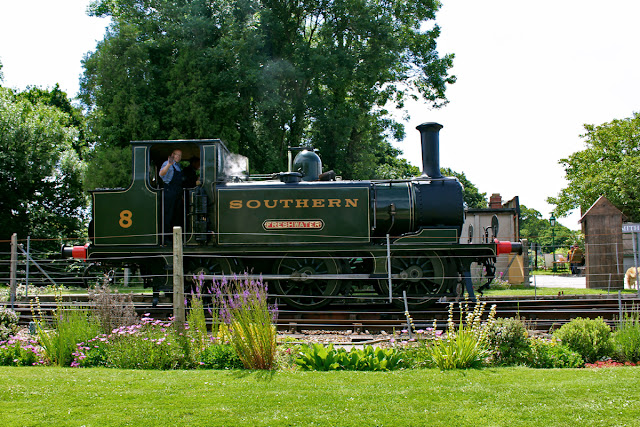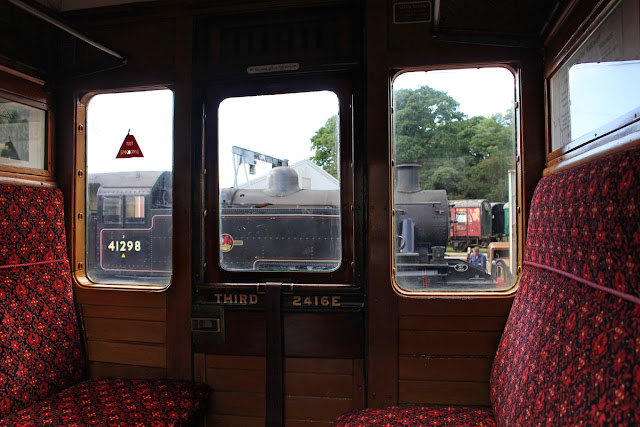 This year there were many more exhibits than at past events, plus lots more of the visitors had dressed up in 40s style clothes this year, which is great as it really adds to the atmosphere and makes the day a lot more enjoyable! There was also many more vintage clothing stalls this year, which me and mum had a good old rummage through. I was quite restrained and so only bought a few pairs of vintage clip on earrings, which were real bargains from one of the charity stalls. We also bought some rag rug supplies from the lovely ladies at
The Pig & Lion
so that we can try our hands at making a 40s style rug with all the leftover scraps of fabric we have accumulated over the years, which should be fun!
Charity shop treat and a gift from mum // my now undone shawl //
I'll Be Seeing You at the Winter Gardens // Earrings from the 1940s event
On Sunday after a trip into Shanklin for a little lunch and a wander around
Rylstone Gardens
, we headed back to Ventnor to take in a show. The local theatre group were hosting a 1940s musical called 'I'll Be Seeing You' which was being performed in the very appropriate 30s built
Winter Gardens.
Mum thought it would be a nice way to end our 40s weekend and so treated us to some tickets. The atmosphere in the theatre was great and the show was fabulous. The story was really rather lovely and focused on a fictional family living in Ventnor during the war, I even got a bit teary in places and the ton of songs they filled the show with were all classics from the 40s and 50s, which were beautifully sung by the amazing cast, it really made the perfect afternoon treat!
A change of Plan
Monday was grey and cloudy, which meant plenty of time for knitting. OK, so this is where I need to confess to something, something I have a feeling I may live to regret. I took along my shawl project (see it in the last collage) which I have been slowly working on over the last few weeks. As I have been working away on it I have been becoming less and less enamoured with it, not the pattern, that's fabulously fun and very easy to knit, it was the pink and purple stripes, they were reminding me a little too much of a stick of rock and so I decided to rip it all back; I just couldn't see myself ever wearing it! I did cast on another, though mum had two 100g balls of lovely navy DK glitter wool which she couldn't think of a use for and passed on to me, so I used this to cast on a new version and with more time and less distraction meant I rattled through knitting and even managed to cast it off just minutes before I had to leave to catch my ferry home! Mum was rather enamoured with it so I gave it to her as a gift and as I still have another ball I'll cast on a matching one for me!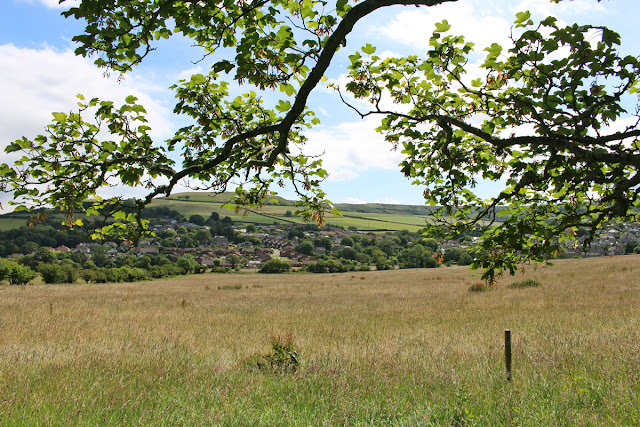 Before I left for my ferry on Tuesday morning I did manage to fit in another little walk 'around the block' as my parents call it, which it's actually much nicer than it sounds, as once you get to the bottom of their road it's all hilly valleys and lanes. Also you get to walk past my favourite place on the island
Appuldurcombe House
, (pronounced Apple-der-combe, we were reliably told by a local many years ago) it's an 18th century ruin, now maintained by English Heritage, which is set back into a small secluded wooded area with fabulous views across Wroxall village and the hills beyond.
Appuldurcombe House
It is so beautiful and sad, that I fell in love with it the first time we visited when I was a child and always hoped that one day I might live near it. I am also hoping that one day, weather permitting, I'll be able to pop up there with a picnic and a Jane Austin novel and sit in the derelict tranquillity of the grounds to pass a sunny afternoon Oh, and just between you and me, if I ever did get married I'd dearly love it to be held here as it looks like the perfect place for an elegant party!
"Who are you...where's my dinner"
After a long journey home I was expecting a lovely warm welcome from the little furry one, he usually runs in and jumps on my lap for a few minutes attention, but the best I got was this sceptical peering from around the sofa before he ran off to find his dinner, haha, he is a fickle little beast!
Wendy x