Today in London has been dreary, really dreary (come on spring where are you hiding). So to brighten things up a bit I thought I would share a cheerfully bright gift I made for my brother especially for his recent trip to India.
I feel that before you scroll any further I should give you a warning!
Due to the wild fabrics and floral curtains contained in this post (
the only place with any sunlight at this time of the year is right in front of my living room windows, so you're treated to my floral curtains, sorry!
), those of a delicate nature should view with caution!
Passage to India - Men's Shirt
Pattern From:
TGBSB: Sew Your Own Wardrobe 2014
Men's Shirt Pg. 102-107
Size Made:
Men's Medium Body - Large Sleeves
Fabric:
When I got The Great British Sewing Bee books at Christmas I showed my brother the Men's Shirt and he said he'd love a version of his own, so as a thank you for my gifts I decided to make one for him. I forced him to look at floral cotton on eBay hoping that he would find something he liked but expecting him not to really find anything, as it happens he found lots, so many gorgeous fabrics in fact that I was torn between making him a shirt or making myself one!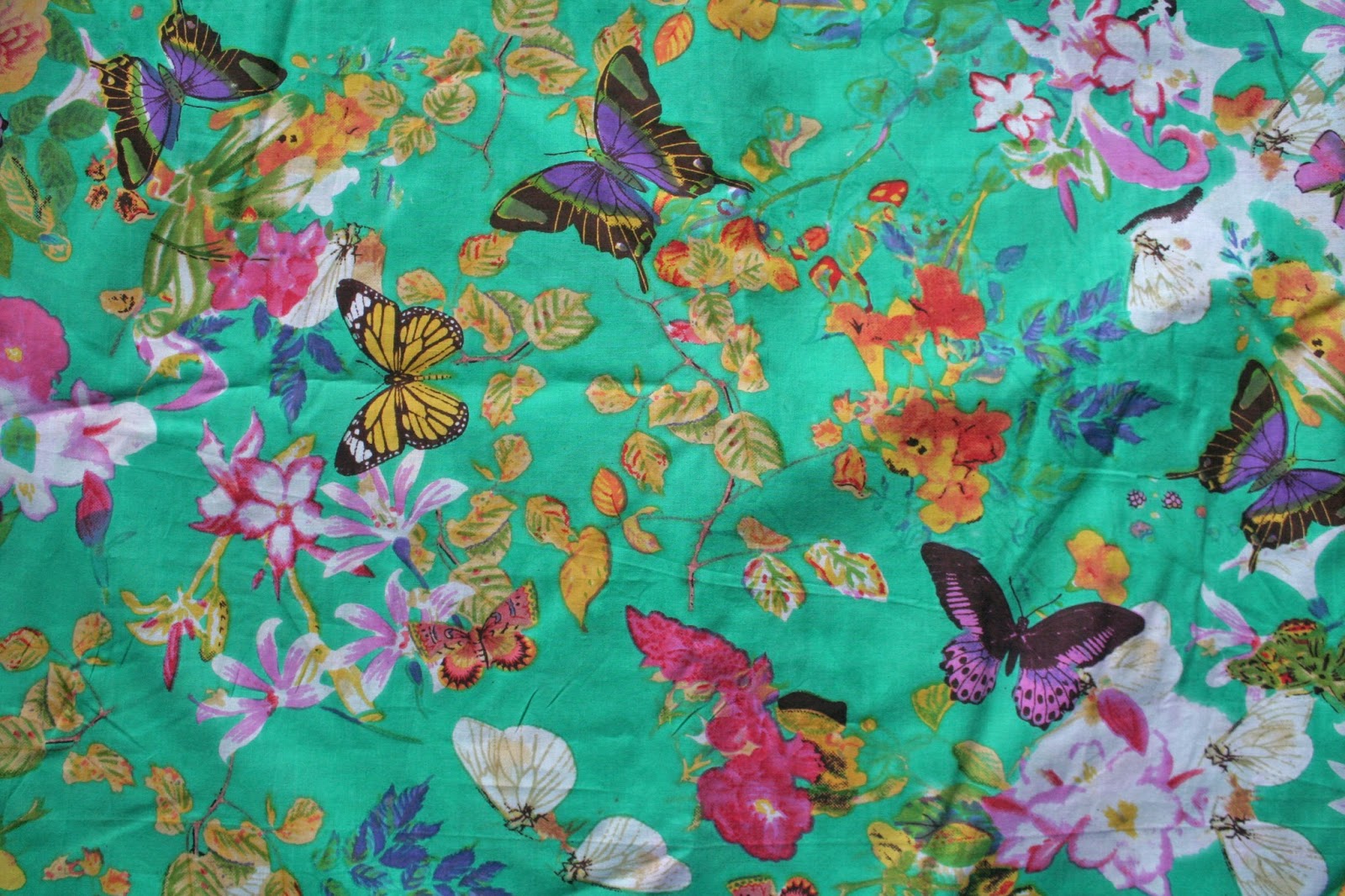 The fabric is all my brother's choice, he clearly has good taste (runs in the family don't ya know!).
Eventually, we settled on this gorgeous cotton lawn covered in flowers and butterflies, in a green colourway for the body and we choose the blue colourway for the contrast detailing. On closer inspection we found that the fabric was located in India, there's a theme developing here! Buying this fabric was hard, I mean, how do I only buy enough for what I need!
I ummed and ahhed for a long time and eventually decided to buy five meters of each colourway, so if I made any mistakes I could start again, if not, I'd have plenty left over for something for me,
Muahahaha
! With the price per yard including free international shipping being so low I was convinced it was good to be true, so I sat back utterly convinced that the fabric would not arrive in time for his trip and that it would be poor quality.
How wrong could I be, it was a mere few days later before I returned to work from the Christmas break, that the fabric arrived! And it was, is, gorgeous! It's a very lightweight cotton lawn which washes wonderfully with no colour loss and though it does crease quite easily it irons up a treat, not that I can see my brother ironing it anytime soon!


So after a pre-wash (I do occasionally follow the rules) I set to tracing off the pattern and cutting out my pattern pieces, everything went really well, I did notice that the sleeves seemed on the small side, I double checked that I had cut the correct size and I seemed to be correct but they looked far too snug. As my mum was staying with me for her annual new years trip she decided to take the shirt back up to Liverpool on her return for my brother to try on.
Lucky she did as it was clear it was going to need bigger sleeves! She sent it back a few days later with her detailed instructions and I set about cutting new sleeves and widening the arm holes. This was actually rather easy, despite me having to completely re-do one sleeve as it got caught in with the fabric when ovelocking and so had a nice hole cut into it, oops! Everything that can be on this shirt is top stitched, which gives a lovely sharpness to the edges of everything, but keeping it even was perhaps my biggest hurdle.
Top stitched to within an inch of its life!
The task I left until last were the buttonholes. I
hate
buttonholes, I'm pretty convinced that my sewing machine machine knows this and tries to make me loose my mind when using the 'simple' 4 step program. I made 6 of the 7 buttonholes beautifully, perfectly placed, sized and looking really neat. The seventh buttonhole was cursed, my machine suddenly decided it could no longer do buttonholes, nope, no how, no way!
S'cuse, the red chalk rotary wheel markings for the pocket!
No matter how many times I turned the machine off so the computer could reset, whilst I unpicked the latest disaster, it utterly refused, all I could get it to do was the end parts (wider zigzag on top of itself to lock the ends) ALL it would do! Now by this point I was under pressure to get this blighter finished, photographed and in the post, so what you see below is the result of a very sweary bodge job!
Pretty ain't it! No, well just look at that butterfly instead, lovely, lovely butterfly! I decided that I would have to leave it for now, it would function well enough, it's just not very nice to look at, so when I next get the chance I will attempt to fix it, for now, it stays messy!
All in all, this was a great little pattern to start my new year of sewing, though there are a few niggling negatives, which I really feel I ought to mention as they are worth being aware of if you are planning to make this pattern yourself as the pattern instructions are a little vague. OK, this pattern is not designed for a beginner the book sets it at an intermediate level, but I firmly believe a new or intermediate sewer can tackle anything if the instructions are clear and concise and these are not.
The button bands in the construction drawings and on the pattern pieces show the neck edge sloping downwards diagonally, but the photo of the shirt shows them going straight across.
The shirt cuffs have points on them on the pattern but the instructions for inserting them, skip to a women's shirt pattern for this bit, does not refer to them at any point (no pun intended) at all, so there is no indication of where about you should line them up. I ended cutting them off!
The book pretty early in construction on tells you to double roll the hem and stitch, this, as it is a curved hem, is a tricksy task, and could definitely use more explanation.
Despite these negatives, the shirt was a lot of fun to sew, was finished on time and promptly posted off to my brother a few days before his trip to India and his shirts trip home! (I like to think the fabric being an Indian native kept him safe on his travels) as you can see from the photo it fits and he loves it. Job done!
Now,
what to do with the remaining fabric...
Wendy x