A few weekends ago I was lucky enough to get the chance to visit the annual airshow at the
Imperial War Museum Duxford.
B17 Flying Fortress 'Sally Bee"
I've been to Duxford many times before, though during my previous visits I'd never had any time to explore the museum as I was always working, so I was really excited to finally get a good look at everything, with the added bonus of seeing some of these amazing machines in flight!
A line up of Spitfires
It was a bit of a long day, not pre-booking a ticket meant a 5am wake up call to ensure we got one of the limited on the day tickets by the opening at 8am (even at seven there was already queues on the motorway, it was mental). I somehow managed to find time to smarten myself up for the occasion, its been ages since I set my hair as I've been feeling a bit off for the last few months, but it was about time despite a crack of dawn start to make a bit of an effort.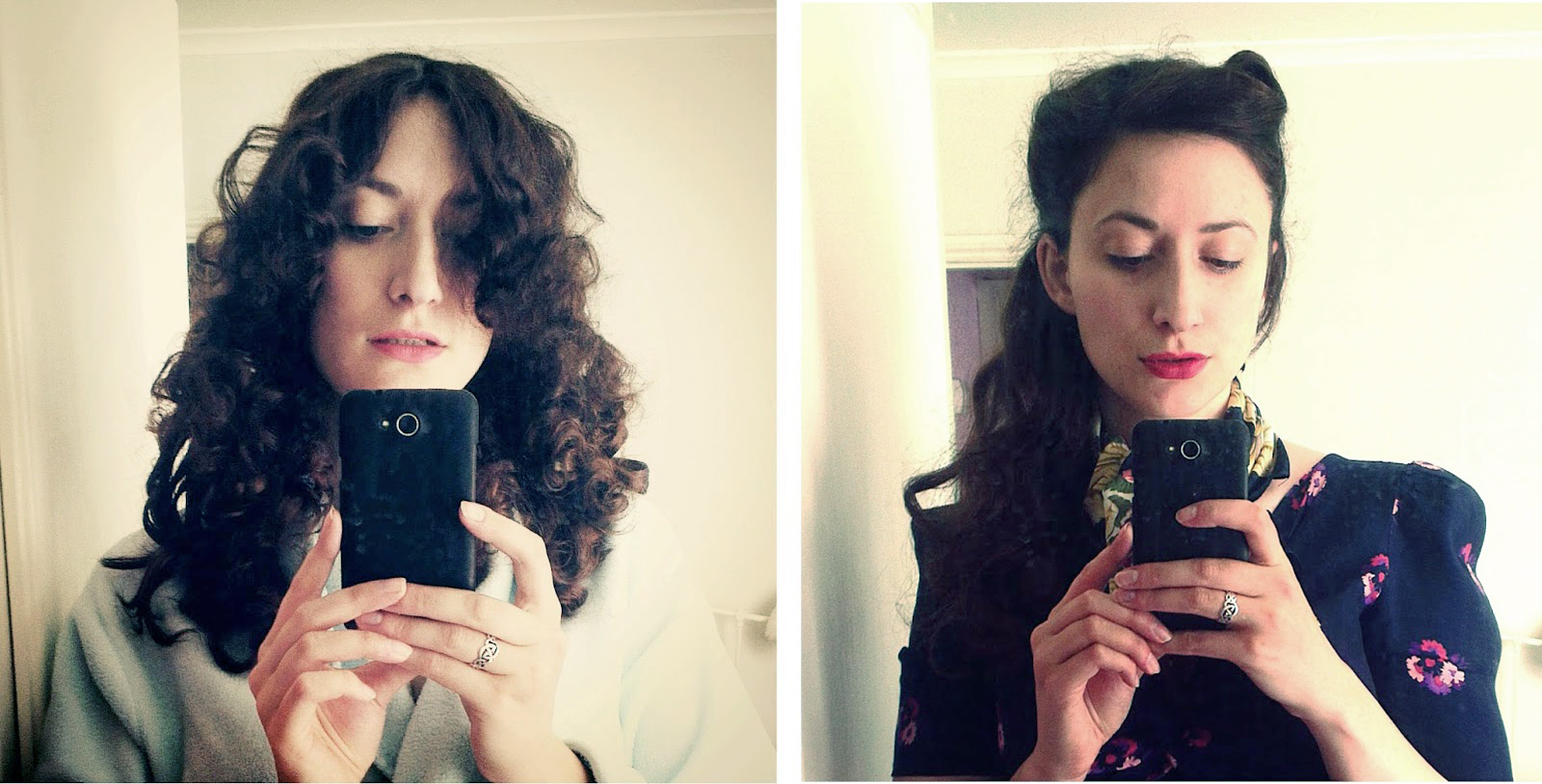 It reminded me, in my sleepy haze, just how much my freshly curled locks make me resemble
Johnathan Creek
which I found utterly hysterical, blame tiredness. After a bit of brushing I did manage to tame the curls into something less amusing, though my styling lasted about 15 minutes after exiting the car, airfields are windy (duh), so this is the only evidence of my efforts, at least I tried.
Getting to the museum bright and early meant there was plenty of time to look at all of the packed to the rafters aircraft hangers before the majority of the visitors turned up, which meant it was lovely and calm.
Two Seater Trainer Spitfire
Air Space Hangar
Boeing Stearman Training Plane
English Electric Lightening
After a spot of lunch, it was time for the show itself, now I wont bore you all my three million photos, most of which are just of dark specs against the sky, just my favourite parts, one of which was the majestic WWI display team which included a Fokker Triplane piloted by
Iron Maiden's Bruce Dickinson
, which certainly explained the plethora of Iron Maiden T-shirts which were being worn around the airfield! The aircraft were so slow yet elegant and graceful, it is hard to believe how much aviation evolved in the 20 years between the wars.
Fokker Triplane & BE2 replicas
WWI Dogfight
My main reason for going to Duxford, was actually to see the flypast of the only two flight-worthy Avro Lancaster's. I'd managed to miss them at all the other locations they were at over August so I was well aware this was my very last chance and I was not disappointed, it was an experience that I wont forget.
Avro Lancaster B Mk 1, Lancaster B Mk. X & their Spitfire escort
The weather which had been all blue skys and sunshine mere hours before had turned to thick grey cloud, I was initially irritated by this, but to be honest the heavy cloud seemed utterly appropriate and if anything added to the experience. When the announcement came over the tannoy that they were on there way, everybody was scanning the sky desperate to be the first to see them. As they came into view over the top of one of the hangars, the sound of their engines competed with the clapping of the crowd and rapid fire of cameras clicking in frantic unison to get a memento of the moment.
UK based Thumper and Canadian based Vera
Honestly it was a wonderful sight and the roar of the eight Merlin engines was incredible (I know the spitfires were there too so probably ten Merlin engines) I can confess to feeling a bit emotional and shedding a tear, daft I know but I had really, really wanted to see them, it was a once in a lifetime experience, like a little bit of time travel. I can only imagine the sound a whole squadron would have created impressive, yet terrifying.
Four Spitfires hove into view
Once I'd composed myself, erh-hum, there was plenty more to see. The only areoplane I had seen in all the times I had visited before, was the American Flying fortress B17 'Sally Bee' (see top photo) this time it took to the skies which was wonderful, also there was an simply amazing display from a tri-jet Boeing 727 which I was to flawed by to take any photos. Having deciding to leave a little early to avoid the traffic chaos, the last display of the day was from four Spitfires, tailed by a lone Hawker Hurricane.
Tail End Charlie - A Hawker Hurricane
By this time the sky had returned to its more turquoise hue, which illuminated their aerial acrobatics perfectly. It reminded me of the first time I saw a Spitfire fly when was a child, one flew over our back garden, I'm not sure how we knew it would be flying past, but we were all out cameras in hand. Somewhere I still have the spec of black on blue image I took that day. I was as mesmerised then as I am now, this time though I was able to get a few better pictures!
Supermarine Spitfire's
The clipped wings increase the roll rate, which meant they were able to compete better with the Fokker 190.






As we walked back to the car park the Red Arrows were swooping, soaring and painting the sky red, white and blue, which was the perfect end to the day! I have to say it really was a fabulous trip, well worth the early start. I've never been to an airshow before, so I wouldn't consider myself a plane spotter, though I do love an old Warbird, but it would be impossible not to find the sheer amount of aircraft on display simply breathtaking, I would heartily recommend a day out to Duxford to everyone!
Wendy x