With all the digging and veg talk that I have been doing lately, and all the posts with pictures of muddy allotments I've inflicted upon you recently, I thought I would be rather nice to have a little break from all that mud and wallow, so to speak, in a bit of 1930s glamour.
My remedy comes in the form of another
Fabulous Film Fashions
post and though it does actually contain scenes of mud and vegetables I can whole heartedly promise, that they are for beautification purposes only!
Romantic comedy based on the novel by Winifred Watson. Frances McDormand stars as Miss Pettigrew, a dowdy governess struggling to find employment in 1930s London after being unfairly dismissed from her previous job. She unexpectedly finds herself fulfilling the role of social secretary for glamorous American actress and singer Delysia Lafosse (Amy Adams), whose life is an unending social whirl - the complete opposite of Miss Pettigrew's own drab existence. Despite their differences, Miss Pettigrew becomes Delysia's confidante and personal aide, and is witness to many of the joys and indiscretions that thrive in this heady, high-society climate. Could it be that Miss Pettigrew has finally found her calling?
[source]
I first watched 'Miss Pettigrew Lives For A Day' a couple of years ago, and it has since become
the perfect light-hearted tonic when I am feeling down
. Its short, sweet, touching, funny and has such wonderful clothes. There is just so much to love, and all this gushing comes from someone who tends to shy away from Rom-com's
(I've been jaded by ex-flatmates forcing me to watch too many bad ones). Generally I would pick a war film over a Rom-com
any day, the boyfriends very lucky in that respect (I've even watched his favourite the 5 hour epic Das Boot, with subtitles, twice!), but there are exceptions and this is certainly one I am glad I tried.
Oh yeah, it also has the
very
dishy Lee Pace, the '
Pie Maker
' himself, in it which let's face it, certainly helps one maintain an interest!
So today I am going to focus my costume love, on to the outfits of the two main characters, that of Guinevere and Delysia, On to the glamour!
---- Warning screenshot heavy post. Click all images to make bigger ----
Poor, sweet Miss Pettigrew, she starts off rather out of luck (and dinners) when she meets the shocking and glamorous Delysia, never fear things are set to change for the better. Sadly Miss P only has three outfit changes to Delysia's Six, and all in one day, the opulence!
The first outfit we see Miss Pettigrew in is rather dull, so much so, it initially didn't cross my mind to screenshot it! Thankfully the good old Internet helped me out with a couple of good images and I have to say other than being a bit bland in colour there is quite a pretty dress lurking underneath that coat!
Blue Chiffon Dress
This dress has
Sunburst pleats
, oh my!!!
Such a pretty, royal blue chiffon dress, long bishop sleeves, large cuffs with fabric covered buttons, The bodice is soft fitting with beneath bust pleats to add some shape, bodice and skirt are joined together with a diamond cummerbund style waist band, the skirt has fullness to the front which is created with sunburst pleats, dress is fastened at the back with buttons.
Blue Velvet Evening Gown
Beautiful deep blue silk velvet, bias cut floor length dress, high under bust waist line, with buttons which run down the bust. Front and back neck line run to a modest V shape edged with what looks like a soft pleated white taffeta long sleeves which taper at the wrist and are adorned with matching buttons.
Delysia Lafosse Played by Amy Adams

Delyisa is a ditsy, up-and-coming American entertainer living in 1930s London, who is torn between following her heart or following her career. The film may well be about Miss Pettigrew but Delysia's clothes steal the show. They are all soft, floaty, opulent and very, very dreamy!
Peach Silk Satin Dressing Gown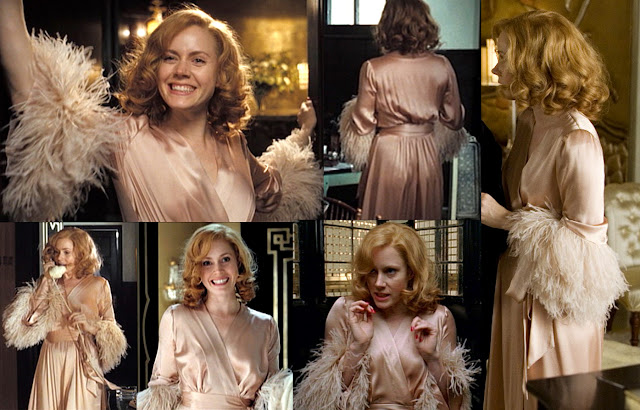 Silk satin dressing gown, with ostrich feather elbow cuffs & attached cummerbund style tie sash closure. How wonderful would it be to swan about in this dressing gown, I don't think I would ever want to get dressed!
'Wallis' Blue Dress, Stole & Hat
"Amy Adams wears a day dress of a colour called "Wallis Blue" named after the Duchess of Windsor. The short dress has a self bow at the neck and a sash with a tortoise shell buckle at the waist. The matching hat gives the whole (ensemble) some added oomph." [Source]
I just love this outfit, can you tell?
A Wallis Blue, what looks like crepe, below knee dress with bias cut skirt, button through shirt waist blouse top with pussy bow collar, rouched bracelet sleeves, with shoulder pads and another cummerbund style belt topped off with a matching blue felt hat with tortoise shell red trim!
Ostrich Feather Coat
Sadly we don't get to see this coat in is full glory, as it is only in one scene. But its just too fabulous not to show you!

Pink Tea Dress with Fountain Diamanté Detailing
Just look at the detailing! It makes me want to buy a
Bejeweler
just so that I can recreate this dress!
A simple rose pink calf length dress, with a panelled skirt, left side zipper and yet another cummerbund style waist cincher, which this time is incorporated in to the back of the dress and in a darker dusty pink. The bodice has gathers at the shoulder and a deep plunging V-neck, shoulder pads accentuate the sleeve heads which have been decorated with fountain jewelling which leads down to a long tapering close fitting sleeve.
Bath Bow & Dressing Gown
Another satin ensemble, A dusty pink hair bow, to protect your curls whilst bathing elegantly! And another dressing gown, this time in rose pink, with what looks like panels of quilted flowers on the lapels and sleeves. This actually really reminds me of
Anne's dressing gown in Glorious 39
.
Cream & Beige Pin Stripe Safari Suit
I love the way this safari style suit gives a nod to the intrepid adventures that Delysia life may hold.
A felt 'pith helmet' styled hat, tops what looks like a beige cotton ticking shirt waist dress, perfectly matched stripes, covered with a cream bolero style long sleeve jacket, with matching lapels and Cuff link style button closure.
Gold Lame Floor Length Evening Gown
What can I say about this dress, its certainly a show stopper!
Gold Lame floor length bias cut dress, with subtle diagonal gathers on the front and back at hip level, zipper at the back of bodice, which is where the calf length front sash is attached. The bodice is a very clever construction, the shoulder straps cross over at the front making it look like a halter neck but the straps actually run straight down the back and re-join at the lower back of the bodice.
and
because I promised you mud and vegetables, and it would be rude not to deliver...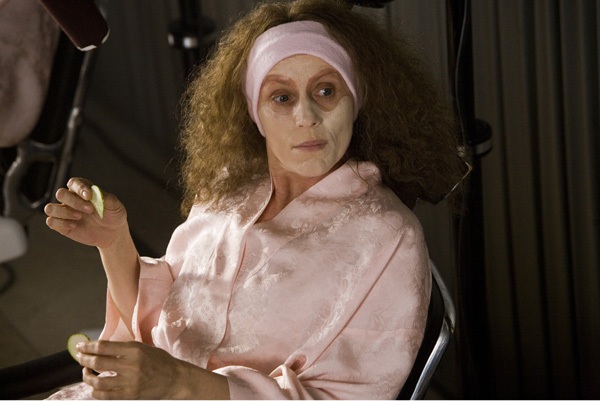 Miss Pettigrew getting beautified! [Source]
Wendy x